Rough and Tumble Historical Association, Inc. is a unique 501(c)(3) non-profit museum located on 33 acres in Lancaster County in PA that helps preserve America's Agricultural and Industrial history by holding events throughout the year. We have many operating exhibits as well as numerous Steam Traction Engines including one of the oldest running Steam Traction Engines in the US, the Schiedler built in 1886 recently restored! See the video of the first test of this engine in our 2012 Photo Gallery.
Ride two special Steam Trains that loop around our grounds. There is a huge collection of Gas Engines including the Oldest Internal Combustion engine running in North America built by Otto and Langen in 1867 and the oldest running Diesel Engine built by M.A.N. We have a large building of Stationary Steam Engines all running. You will see some of the best restored John Deere, IH, and Rumely tractors around to name a few. Our Model Shops have many very unique hand built items on display and running. Watch our Blacksmiths forging items. Founded in 1948, we are celebrating our 76th year in 2024 with the unique history as one of the longest and earliest running organizations of this type in the U.S.
Rough and Tumble is "The Most Complete Operating Steam and Gas Engine Show in the East"! Our Threshermen's Reunion attracted thousands of visitors from across the U.S breaking attendance records last year. Come visit us and see up close the wide range of unique operating equipment of all types on our grounds.
Our Museum is open to the public for 7 special events per year. If you would like to arrange a private tour please send your request to [email protected] at least 6-8 weeks prior and we will do our best to meet your needs.
The 76th R & T Threshermen's Reunion is the 2nd Oldest show in the Country to be held again August 14-17, 2024. Featured will be Shepperd Diesel, Allis Chalmers Associated Engines, and Box Hand Corn Shellers.
• No Camping
• No Firearms
• No Alcoholic Beverages
• No Politics
• No Bikes Of Any Kind (1, 2, or 3 wheels)
• No Exotic Animals
• Rough and Tumble Engineers Historical Association Reserves the Right to Refuse Admittance to Anyone at Anytime for Any Reason. (This includes Members). Admission Guidelines can be found here.
What's New!
Winter
Welcome to the updated, mobile friendly Rough and Tumble Web Site. Our site allows members and visitors to join, renew, and update their Membership and purchase Membership and Gift Shop items on line with their credit card via PayPal. Members can also sign-in and update their profile information, read R & T By-Laws, Club Info, and download and print the quarterly Whistle newsletter.
Facebook users can also look at the The Rough and Tumble Historical Association page we help support here. Please "Like" the page and you will see updates.
R & T Happenings and News:
The Rough and Tumble Gift Shop has been updated with restocking, new items, and free shipping in the US.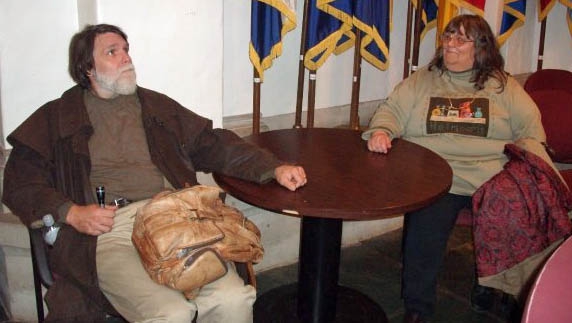 Rough and Tumble is sad to share that On Saturday Dec. 2nd, Russell and Sandy Jenkins from our Black Smith Shop were traveling home from Lancaster and were involved in a car accident. Russ has multiple broken bones. Unfortunately, his wife Sandy passed away in the crash. Please keep them in your thoughts and prayers. More information is available here.
Nevin K Brubaker passed away peacefully under Hospice care at his home in Landisville, PA, on Tuesday November 21, 2023. We celebrate that Nevin is with Jesus. He lived his life to honor God and serve others with a big smile and infectious laugh. Nevin was 85 years old, born on August 17, 1938, the son of Daniel and Helen Brubaker. He was the husband of Mary Brubaker, enjoying 63 years of marriage together. More information is available here.
The annual Mid-Winter Get-Together will be held on Saturday, February 10th 2024 from 10 am until 3 pm. As usual there is no formal program, just a chance to get out of the house and fellowship with fellow Rough & Tumblers to "chew the fat". Everyone is encouraged to bring models and other projects, complete or not, crafts, any photos from trips or past shows (R & T and elsewhere), or other interesting stuff. The Line Shaft Shop, Large Gas, Blacksmith Shop, Model Shop and Steam building will be opened. There will be a fire pit setup outside. Coffee will be available in the Kitchen and Model shop in the morning. R&T will be hosting a "pot-luck" lunch so bring a food dish and join them at the R&T Kitchen at Noon. You won't go away hungry. So, shake off those winter blues, and come on out! Please dress warm. Snow date Feb 17th.
The 76th R & T Threshermen's Reunion is the 2nd Oldest show in the Country to be held again August 14th to the 17th in 2024 featuring Shepperd Diesel, Allis Chalmers Associated Engines and Box Hand Corn Shellers.
The 2024 Reunion Brochure is available here. The 2024 Reunion Poster is available here. We all look forward to our 2024 shows!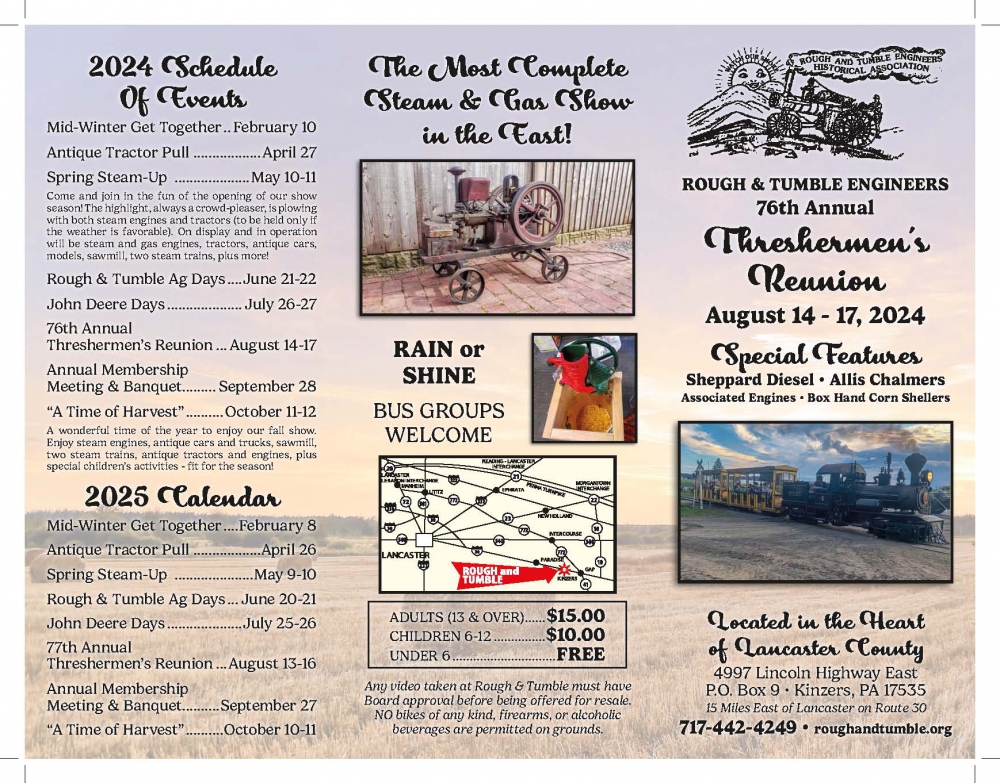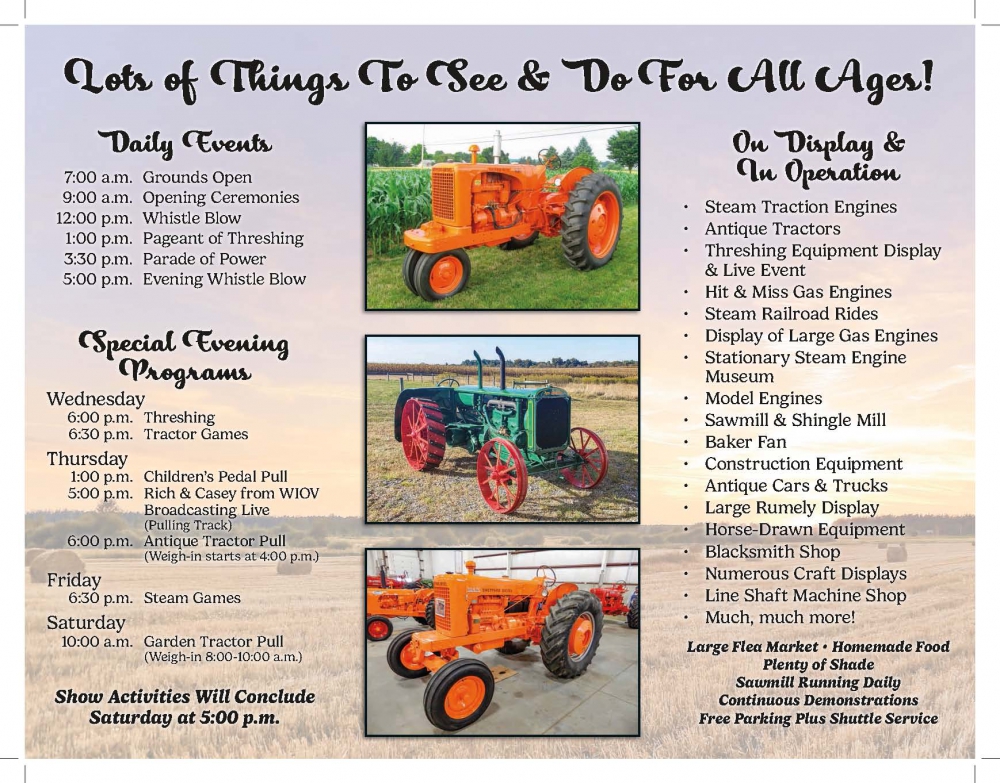 A Time of Harvest Show was held October 13th and 14th. Our final show of the year celebrating "A Time of Harvest". Special activities were held for children on Saturday including the Pedal Tractor Pull, Harvest Rides, and other events for children including Pumpkin Face Painting and a Barrel Train Ride. Rough and Tumble equipment was in operation from steam trains, gas engines, and the model shops to gas engines, steam traction engines, and more. Some photos from the show can be seen here .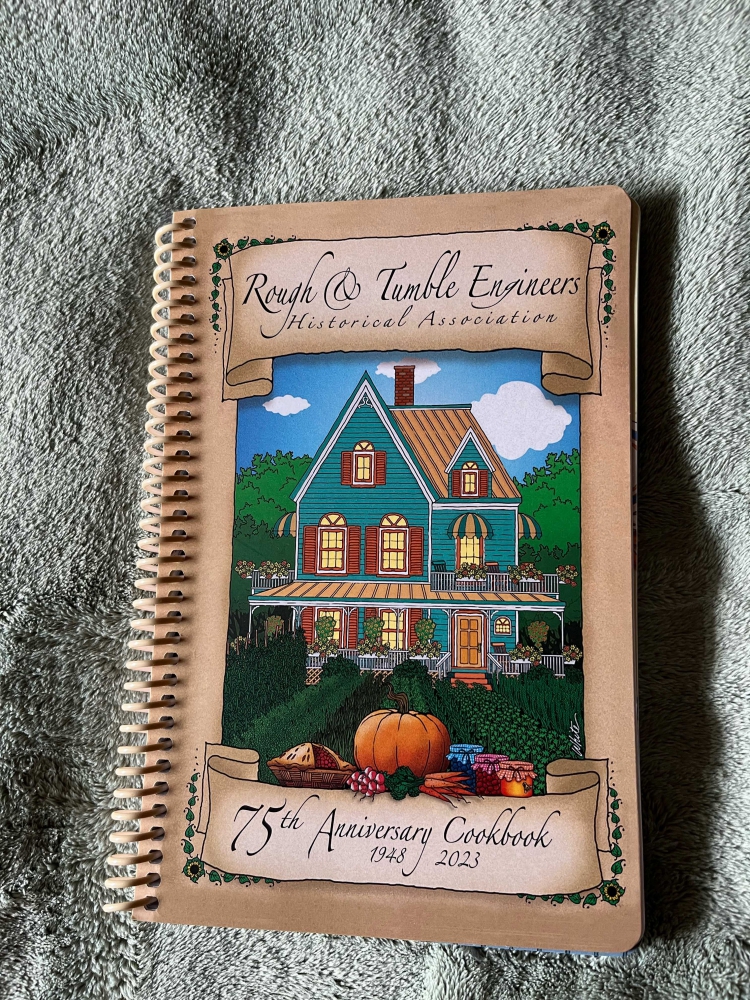 The 75th Annual Threshermen's Reunion was held August 16-19 2023. Special feature was the Steam Engine Extravaganza for this show. Photos and Videos from 2023 are available here.
The 75th Anniversary R&T Cook Book is now available from the gift shop. https://roughandtumble.org/viewproduct/77
Reunion Exhibits include Steam Traction Engines, Antique Tractors, Threshing Machines, Hit & Miss Gas Engines and Large Gas Engines. Ride Two Steam Trains that loop our grounds, Visitors watch the Saw Mill and Shingle Mill in Operation. Visit the Model Shop, Antique Car Museum, Line Shaft Machine Shop and the Large Stationary Steam Engine Museum. See the featured Rumely Display, Stationary Balers, Antique Wagons and the new Line Shaft Machine Shop. There are many activities for Children including the Children's Pedal Pull.
Blacksmiths pound Iron and the Huge Flea Market over 2-3 acres will have over 100 vendors. There are the large John Deere and IHC Displays, Numerous Craft Displays. Antique Earth Moving Equipment in Action. The Daily Parade of Power and the Pageant of Threshing. Enjoy the Good Home Made Food with Plenty of Shade around the grounds. Evening activities include Tractor Games, Antique Tractor Pulls and Steam Engine Games.
WGAL TV at Rough and Tumble
We Demonstrate the Daily Pageant of Threshing!! From Hand, to Horse Power, to Steam, to Tractors at the Threshermen's Reunion!

The Rough and Tumble Pulling Committee is pleased to announce that we are including Classic Tractors to our pulls along with the Antique Tractors. A new web page has been added for Tractor Pulling Information under R&T Information and can also be accessed here which included links to regulations.
Our Mission: To Develop And Maintain An Educational Living Museum That Showcases Antique Farming Machinery And Other Equipment, Which Are Demonstrated Periodically At Organization Shows And Events.
Membership in Rough and Tumble is widespread both by age and geographically. It is not unusual to see three and even four generations of a family riding around the grounds on a huge steam traction engine during events. Likewise, the parking lot is full of cars and motor homes from all over the United States and Canada during Annual Reunions. Membership in Rough and Tumble renewable at the beginning of each year and is payable at the gift shop, via mail or now by PayPal with your credit card thru our web site. We also offer Lifetime memberships. Membership brings many benefits. Now is the time to renew your yearly membership. A reminder, anyone operating equipment at R&T must be an active member.
Rough and Tumble is converting the old Schatz Food Service #5 building near the entrance to a Museum for Hit and Miss Small Gas Engines. Engines will be on display and running. This project is being worked on with engines stored in the Engine Haus #16 moved into the remodeled building. The Board of Directors approved the new display area and look forward to this new addition to the Museum. More information is available here.
Volunteers are working on projects around the grounds preparing for events. Jim Wiest is the Volunteer Coordinator and is working on a variety of projects around the grounds. Every weekends Saturday Volunteer Activities can be seen on the Volunteer section in Saturday Volunteer Activities here. A special thanks for all the Volunteers that help make Rough and Tumble the great and unique organization it is today! We have several projects going on this year and more information can be found on our Volunteer Info page above. Another Volunteer with projects around the grounds to connect with is Wayne Hartshorne who is working in various areas.
Rough and Tumble has received some great reviews on TripAdvisor. We thank all the many people that visit our unique Museum every year. The link to TripAdvisor with our reviews can be found here.
The Patriot News of Central PA wrote a special article on what Rough and Tumble has to offer a visit to our grounds during shows. You can read their article "Rough and Tumble's show of power is like no other ", here.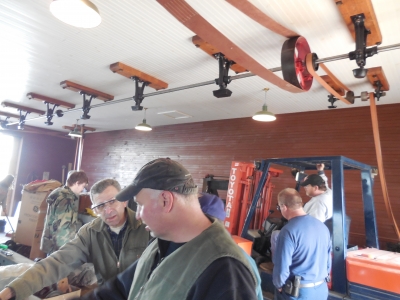 Our Circa 1900's,Line Shaft "Machine Works" continues to grow and add more equipment. We would like to thank R & T Director Bud Burdy and his team for the beautiful job they are doing after much research on how to design and build the shop. You can see project photos in the Photo Albums. They are finding more interesting circa equipment as the project progresses. Note the ceiling mounted line shafting.
Bill Hazzard and his team have worked the Cooper Engine Project for many years from dismantling it in Ohio, to bringing it back to R & T, pouring concrete and installing the engine. Bill was able to turn over the engine with compressed air in the summer of 2012 to prove the mechanics. The next step was to complete the exhaust, fuel supply lines, and cooling system which is now complete. The engine first ran for 30 minutes on 7/20/13 as shown on the video. Look at the Cooper Engine Project and New Running Videos in our photo section. New Notes and an engine diagram were added to photos pages.
A Great Piece of Cooper History from Roger Kriebel has been added regarding the Cooper Engine. You can see that information here.
Rough and Tumble Engineers Historical Association, Inc.
4997 Lincoln Highway East
Kinzers, PA 17535
Telephone (717) 442-4249