6/29/2020
Friends,
Hope this finds you well.
With Lancaster County moving to the Green Phase we will return the gate code to Pre Covid numeric code tomorrow 30 June. The temporary code will remain in place for one week. The restrictions for scheduling work and a 25 person maximum occupancy are lifted. R&T will return to normal workday 4 of July, but kitchen will remain closed due to a combination of Covid -19 restrictions and ongoing construction.
I would like to thank everyone for their support in these unique times. Please keep the processes in place to keep us all safe.
Keeping it Old School,
Bud Burdy
President R&T
Board Members and Officers,
We will have our scheduled July board meeting 3 July at 7pm in the kitchen. Please bring a lawn chair if you would like enjoy the meeting in comfort.
We will practice social distancing, wear masks, I will speak into my plexiglass shield and provide sanitizer. I will try to keep meeting short.
Struggling with the New Normal,
Bud Burdy
6/7/2020
Friends,
On June 6, the Board of Rough and Tumble met to discuss the upcoming events working within the CDC guidelines and meeting the state requirements for yellow / green phase.
After much heartfelt discussion the 72th Annual Thresherman's Reunion August 12th-15th, R&T Tractor Pulls June 27 and John Deere Days July 24th&25th are cancelled. This was not an easy decision, but the safety of our volunteers, members and visitors is our first concern. To operate the show safely would have been a daunting task due to CDC guidelines and Commonwealth restrictions. The Board is discussing the possibility of making the Time of Harvest show October 9th&10 a larger event if restrictions are lifted.
On a related topic, in the yellow phase we will allow work at R&T to continue for groups. We are presently allowing 25 people on the property at one time if we follow the yellow phase guidelines. The group count will be maintained by a schedule that I will monitor. If your group would like to work at R&T, simply have your group leader give me a call, text or email with the following information 1) Dates you want to work, 2) Number of volunteers 3) Work to be performed. When your time slot is verified I will provide the group leader a temporary gate code. Bathrooms on the property will remain closed, but porta-potties are available.
Preserving Our Heritage,
Bud Burdy
President R&T
Rough and Tumble Historical Association, Inc. is a unique 501(c)(3) non-profit museum located on 33 acres in Lancaster County in PA that helps preserve America's Agricultural and Industrial history by holding events throughout the year. We have many operating exhibits as well as numerous Steam Traction Engines including the 2nd Oldest running Steam Traction Engine in the US, the Schiedler built in 1886 recently restored! See the video of the first test of this engine in our 2012 Photo Gallery.
Ride two special Steam Trains that loop around our grounds. There is a huge collection of Gas Engines including the Oldest Internal Combustion engine running in North America built by Otto and Langen in 1867 and the oldest running Diesel Engine built by M.A.N. We have a large building of Stationary Steam Engines all running. You will see some of the best restored John Deere, IH, and Rumely tractors around to name a few. Our Model Shops have many very unique hand built items on display and running. Watch our Blacksmiths forging items. Founded in 1948, we are celebrating our 72nd year in 2020 with the unique history as one of the longest and earliest running organizations of this type in the U.S.
Rough and Tumble is "The Most Complete Operating Steam and Gas Engine Show in the East"! Our Threshermen's Reunion attracted thousands of visitors from across the U.S breaking attendance records last year. Come visit us and see up close the wide range of unique operating equipment of all types on our grounds.
The 73rd R & T Threshermen's Reunion is the 2nd Oldest show in the Country to be held again next year August 18-21, 2021
Rules of the Grounds:
• No Camping
• No Firearms
• No Alcoholic Beverages
• No Bikes Of Any Kind (1, 2, or 3 wheels)
• No Exotic Animals
• Rough and Tumble Engineers Historical Association Reserves the Right to Refuse Admittance to Anyone at Anytime for Any Reason. (This includes Members). Admission Guidelines can be found here.
What's New!
Summer
Welcome to the updated, mobile friendly Rough and Tumble Web Site. Our site allows members and visitors to join, renew, and update their Membership and purchase Membership and Gift Shop items on line with their credit card via PayPal. Members can also sign-in and update their profile information, read R & T By-Laws, Club Info, and download and print the quarterly Whistle newsletter.
Facebook users can also look at the The Rough and Tumble Historical Association page we help support here. Please "Like" the page and you will see updates.
R & T Happenings and News:
Membership Meeting and Barbecue Picnic Sep. 26th.
The Annual Membership Meeting and BBQ will be held Saturday September 26, 2020 at R&T grounds. Gate to open at 12:00pm Annual Meeting at 1:00pm to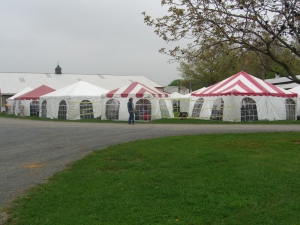 be held in the kitchen area. 15$ Meal to be served at 3:00pm. Meal to be an all in one box/bag chicken meal with salads and desserts. Drinks will be available also.
There will be music entertainment provide by Cristine Kinslow and Company. They will do a set from 4:00pm to 6:00pm. Many of the areas of Rough and Tumble will open up for the Members to enjoy. To include: The Shay, Little Toot, different shops, Gift Shop, etc. Door Prizes and volunteer t-shirts will be available. Tractor Supply will be donating something special to be chanced off.
Ticket sales will be provided through the website by going to the gift shop page with payment made via PayPal. Tickets can also be purchased by emailing [email protected] COVID Regulations will be enforced relative to size, social distancing, and masks. Any questions reach out to [email protected]
The Rough and Tumble Board of Directors has choosen the Nominating Committee for the 2021 R&T Board. Dave Payeur is the Chairman with John Johnson, Dennis Hornberger, Jerry Myer, and Steve McCoy on the committee.
The Nominating Committee has chosen Directors and Officers for 2021. President Bud Burdy, 1st VP Dennis Hornberger, 2nd VP Butch Biesecker, Secretary Nina Wolf, Treasure Janice Glenn, Curator Bill Hazzard and Chaplain Jeff Long.
Directors are Allen Gruver, Steve McCoy, Jonathan Riehl, Paul Stevens, Dave Payeur, Glenn Stauffer, Warren Wolf, Douglas Carlisle, Don Sadler, Wayne Hartshorne, Bill Reber, and Walter Wilson. Alternate Directors are Dave Adams and Kathleen Hazzard.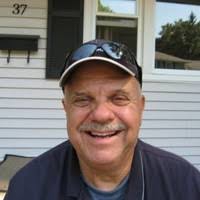 Longtime member Douglas Lotten passed away July 30th, 2020. Doug was a volunteer involved with the Rough and Tumble Little Toot. More information is avaliable here.
Life Member Bradley P. Smith, 64, of Lebanon, passed away Saturday, July 4, 2020.
Born in Lebanon, PA on December 3, 1955, Bradley was a son of the late Paul and Marion (Boyer) Smith. He was a 1973 graduate of Lebanon High School. Bradley worked at South Side Exxon Gas Station, Miller's Auto at the Lebanon Plaza, and B.P. Small Engines. He was a member of the Rescue Hose Company #4, Independent Fire Company, Union Steam Engine & Hose Company, PA Pump Primers, Lebanon City Fireman's Relief Association, Lebanon County Fireman's Association, Kittatinny Hunting Club, Rough & Tumble Engineers Historical Association, and the Firefighters Association State of PA.
Bradley is survived by a sister, Sharon M. Smith.Funeral services will be held privately at the convenience of the family. Thompson Funeral Home, Inc. is entrusted with the arrangements. Please share your memories with the family at our online guest book at thompsonfuneralhomelebanon.com
R&T Tractor Pulling information 5/26/2020
Hello everyone from the Rough and Tumble Pulling Committee, We certainly hope that everyone is doing good and staying healthy through these uncertain times. We want to make everyone aware of the NEW Pulling Rules and ask that if you are planning to join us at one of our pulls that you read the new rules and note changes to weight classes, hitch requirements and other changes to the Rules. We are also happy to announce that we are adding a new choice for 1st Place Winners which is a 1st Place T-Shirt. Understand you may have either a trophy or a t-shirt.
Please continue to check the Rough and Tumble Website for updates on all of the Tractor Pulls. We will keep information posted as decisions are made in regards to the COVID-19 Pandemic. More pulling information here.
Thank You and Stay Safe
Walter Wilson – Pulling Committee Chairperson
The updated 2020 Antique Tractor Pulling Regulations are available in Resources and are available here.
Some Exciting R&T News. Rough and Tumble will be converting the old Schatz Food Service #5 building near the entrance to a Museum for Hit and Miss Small Gas Engines. Engines will be on display and running. This will be a 2020 project with engines stored in the Engine Haus #16 moved into the remodeled building. The Board of Directors in the January meeting approved the new display area and look forward to this new addition to the Museum.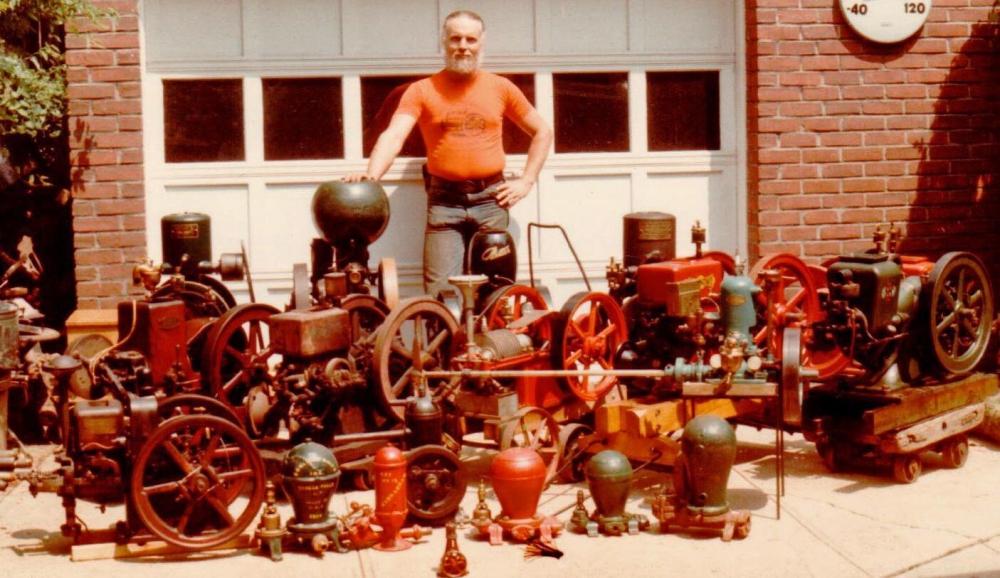 Rough and Tumble is very saddened to announce that that long time member and vendor Lee W. Pedersen passed away in March. More information is available here.
Rough and Tumble Historical Association will be celebrating their 75th Anniversary in 2023. To mark this Diamond Anniversary, the Shows Committee is beginning the monumental task of creating a "Diamond Jubilee Book". We would like to request that you share your stories, memories, pictures and anything else you would like to share, to be included in this book. Shows Committee members will be at the mid-winter get together, meeting with anyone who would like to share. Additionally, you can contact them via email to send a story or to arrange a phone call or meeting at [email protected].
The Merge's family and ace Stanley mechanic Kelly Williams score the first steam up of the new decade with R&T's Stanley Steamer getting it running work Day Feb 1st 2020
WPBS Video of R&T
2019 was a Very Sucessful Tractor Pulling year with many pulls of all different classes. The 2019 Tractor Pulling Results and Regulations are available here.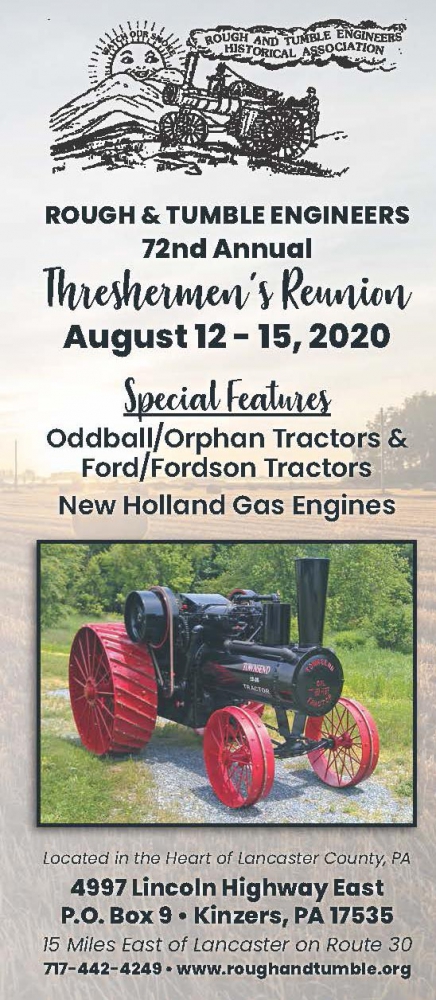 Membership in Rough and Tumble is widespread both by age and geographically. It is not unusual to see three and even four generations of a family riding around the grounds on a huge steam traction engine during events. Likewise, the parking lot is full of cars and motor homes from all over the United States and Canada during Annual Reunions. Membership in Rough and Tumble renewable at the beginning of each year and is payable at the gift shop, via mail or now by PayPal with your credit card thru our web site. We also offer Lifetime memberships. Membership brings many benefits.
The 2020 R&T Brochure is now available here. Please note if you renew your membership online via paypal before you receive your mailed membership card just prior to a show, you should bring your PayPal receipt for entrance. The 2020 Reunion Poster is available here.
The 72nd Annual Threshermen's Reunion will NOT be held August 12th-15th featuring Oddball/Orphan Tractors, Ford/Fordson Tractors, and New Holland Gas Engines. We will also be hosting the 26th Annual Sheppard Diesel Clubs National Show. The show had to be cancelled because of the pandemic.
Exhibits include Steam Traction Engines, Antique Tractors, Threshing Machines, Hit & Miss Gas Engines and Large Gas Engines. Ride Two Steam Trains that loop our grounds, Visitors watch the Saw Mill and Shingle Mill in Operation. Visit the Model Shop , Antique Car Museum, and the Large Stationary Steam Engine Museum. See the featured Rumely Display, Stationary Balers, Antique Wagons and the new Line Shaft Machine Shop. There are many activities for Children including the Children's Pedal Pull.
Blacksmiths pound Iron, the Huge Flea Market 2-3 acres will have over 100 vendors. There are the large John Deere and IHC Displays, Numerous Craft Displays. Antique Earth Moving Equipment in Action. The Daily Parade of Power and the Pageant of Threshing. Enjoy the Good Home Made Food with Plenty of Shade around the grounds. Evening activities includ Tractor Pulls, Steam Games, and Antique Tractor Pulls.
We Demonstrate the Daily Pageant of Threshing!! From Hand, to Horse Power, to Steam, to Tractors at the Threshermen's Reunion!

The Rough and Tumble Pulling Committee is pleased to announce that we are including Classic Tractors to our pulls along with the Antique Tractors. A new web page has been added for Tractor Pulling Information under R&T Information and can also be accessed here which included links to regulations.
A rare 1992 Threshermen's Reunion 40 minute video with sound showing many area's of Rough and Tumble from gas engines to the saw mill, threshing, steam engines, tractors, and steam games below.
The Gift Shop has been remodeled and there are new items online. You will see a beautiful redesigned and updated shop. Wayne Hartshorne headed up the project and his team did a fantastic job.

There is new flooring, fresh paint, new shelving, and the counters were moved to improve access. The new windows and air conditioning have been installed also.
Amazon Smile
Rough and Tumble Historical Association, Inc. is a unique 501(c)(3) non-profit museum located on 33 acres in Lancaster County in PA that helps preserve America's Agricultural and Industrial history by holding events throughout the year. Rourh and Tumble has registered with Amazon Smile to receive their charity donation from your purchase on Amazon. If you purchase anything on Amazon, go to Amazon Smile (same as Amazon) and set your charity to Rough and Tumble Historical Association. Your support will help Rough and Tumble, founded in 1948 with the unique history as one of the longest and earliest running organizations of this type in the U.S.
Our Mission: To Develop And Maintain An Educational Living Museum That Showcases Antique Farming Machinery And Other Equipment, Which Are Demonstrated Periodically At Organization Shows And Events. Go to https://smile.amazon.com sign in, and set your charity to Rough and Tumble Historical Association. Your support is very much appreciated! More information is available here.
Volunteers are working on projects around the grounds preparing for events. Jim Wiest is the Volunteer Coordinator and is working on a variety of projects around the grounds. Every weekends Saturday Volunteer Activities can be seen on the Volunteer section in Saturday Volunteer Activities here. A special thanks for all the Volunteers that help make Rough and Tumble the great and unique organization it is today! We have several projects going on this year and more information can be found on our Volunteer Info page above. Another Volunteer with projects around the grounds to connect with is Wayne Hartshorne who is working in various areas.
Rough and Tumble has received some great reviews on TripAdvisor. We thank all the many people that visit our unique Museum every year. The link to TripAdvisor with our reviews can be found here.
The Patriot News of Central PA wrote a special article on what Rough and Tumble has to offer a visit to our grounds during shows. You can read their article "Rough and Tumble's show of power is like no other ", here.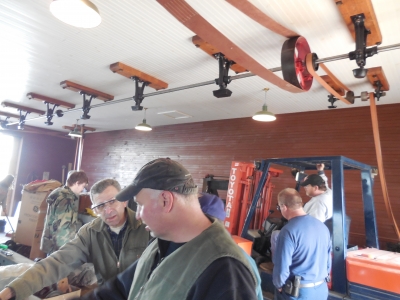 Our Circa 1900's,Line Shaft "Machine Works" continues to grow and add more equipment. We would like to thank R & T Director Bud Burdy and his team for the beautiful job they are doing after much research on how to design and build the shop. You can see project photos in the Photo Albums. They are finding more interesting circa equipment as the project progresses. Notethe ceiling mounted line shafting.
Bill Hazzard and his team have worked the Cooper Engine Project for many years from dismantling it in Ohio, to bringing it back to R & T, pouring concrete and installing the engine. Bill was able to turn over the engine with compressed air in the summer of 2012 to prove the mechanics. The next step was to complete the exhaust, fuel supply lines, and cooling system which is now complete. The engine first ran for 30 minutes on 7/20/13 as shown on the video. Look at the Cooper Engine Project and New Running Videos in our photo section. New Notes and an engine diagram were added to photos pages.
A Great Piece of Cooper History from Roger Kriebel has been added regarding the Cooper Engine. You can see that information here.