5/23/2020
Friends,
Looks like a light at the end of the tunnel...hope it is not the SHAY.
Governor Wolf has mentioned that Lancaster County possibly going to yellow phase on 5 June.
I consider this positive news, we will continue to update the website as the situation unfolds.
Our key concern at R&T will be the safety and welfare of our volunteers and guest during the change of phases.
Keep Safe,
Bud Burdy RT& President
-June Tractor Pull and John Deere Event remain on calendar unchanged
-June Workday cancelled and any non essential work on R&T grounds until after R&T board meets 6/6/2020
-June 6 R&T Steering Committee 12:15 PM (if in yellow phase)
-June 6 R&T Board Meeting 1 PM in kitchen(if in yellow phase) with doors open, social distancing and mask(s)
if still red phase group conference call, details to be posted
5/13/2020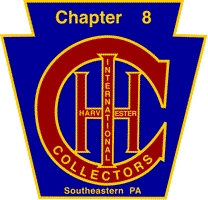 Rough and Tumble has just received word from the IHCC of SE PA Chapter that the International Harvester Show Friday and Saturday June 26-27 2020 has been cancelled. At this time the R&T Tractor Pull for Saturday June 27th is still on the schedule.
5/9/2020
Friends,
I pray that all of you are doing well in these daunting times.
As Americans we must remain positive and confident that this will pass.
This week we learned that Lancaster County will remain in the "Red Phase" In support of Governor Wolf's "Stay at Home Order". R&T will remain closed until 4 June.
I am going to refrain from cancelling the June Board Meeting June 5th and the June Workday June 6th for a few weeks to see how things unfold.
Due to the duration of closure and our inability to prepare for closure, feel free to contact me if you need stabilize your machinery.
As an organization lets focus all our energy on the reunion being the "Best Ever"!
Preserving our Heritage,
Bud Burdy R&T President
4/22/2020
Friends,
I hope that you and your family are doing well in insolation.If you are still working...I hope you are being safe!
In support of Governor Wolf's "Stay at Home Order" R&T will remain closed until 8 May. To abide by the Governor's order we will be cancelling the May Board Meeting May 1st and the May Workday May 2nd.
As an organization lets focus all our energy on the reunion being the "Best Ever"!
Watch our Smoke,
Bud Burdy R&T President
3/28/2020
Friends,
In the effort to control the COVID-19 virus, protect our membership and support Governor Wolf's stay at home mandate that has been extended to Lancaster County, the facilities of Rough and Tumble will be closed until April 30, 2020. If Governor Wolf extends the "Stay at Home" mandate in Lancaster County, Rough and Tumble will remain closed until the restriction is lifted. The Antique Tractor Pull Scheduled for April 25th and Spring Steam-up May 8-9th has been Cancelled! 2020 Steam School will be postponed until May 15th and 16th, 2021. The 2020 Gas Engine School is posponed until a future date.
To reduce exposure of the COVID-19 virus the gate code at R&T will be changed to eliminate non critical entrance on the grounds. If you have an emergency need to enter the grounds contact Steve McCoy at 484.716.0682 or Bud Burdy at 610.850.5404 More PA Information is available here.
Please keep healthy and share your R&T kindness with others.
Bud Burdy R&T President
Rough and Tumble Historical Association, Inc. is a unique 501(c)(3) non-profit museum located on 33 acres in Lancaster County in PA that helps preserve America's Agricultural and Industrial history by holding events throughout the year. We have many operating exhibits as well as numerous Steam Traction Engines including the 2nd Oldest running Steam Traction Engine in the US, the Schiedler built in 1886 recently restored! See the video of the first test of this engine in our 2012 Photo Gallery.
Ride two special Steam Trains that loop around our grounds. There is a huge collection of Gas Engines including the Oldest Internal Combustion engine running in North America built by Otto and Langen in 1867 and the oldest running Diesel Engine built by M.A.N. We have a large building of Stationary Steam Engines all running. You will see some of the best restored John Deere, IH, and Rumely tractors around to name a few. Our Model Shops have many very unique hand built items on display and running. Watch our Blacksmiths forging items. Founded in 1948, we are celebrating our 72nd year in 2020 with the unique history as one of the longest and earliest running organizations of this type in the U.S.
Rough and Tumble is "The Most Complete Operating Steam and Gas Engine Show in the East"! Our Threshermen's Reunion attracted thousands of visitors from across the U.S breaking attendance records last year. Come visit us and see up close the wide range of unique operating equipment of all types on our grounds.
The 72nd R & T Threshermen's Reunion is the 2nd Oldest show in the Country to be held again August 12-15, 2020 and will feature Oddball/Orphan Tractors & Ford/Fordson Tractors and New Holland Gas Engines. We will also be hosting the 26th Annual Sheppard Diesel Clubs National Show.
Rules of the Grounds:
• No Camping
• No Firearms
• No Alcoholic Beverages
• No Bikes Of Any Kind (1, 2, or 3 wheels)
• No Exotic Animals
• Rough and Tumble Engineers Historical Association Reserves the Right to Refuse Admittance to Anyone at Anytime for Any Reason. (This includes Members). Admission Guidelines can be found here.
What's New!
Spring
Welcome to the updated, mobile friendly Rough and Tumble Web Site. Our site allows members and visitors to join, renew, and update their Membership and purchase Membership and Gift Shop items on line with their credit card via PayPal. Members can also sign-in and update their profile information, read R & T By-Laws, Club Info, and download and print the quarterly Whistle newsletter.
Facebook users can also look at the The Rough and Tumble Historical Association page we help support here. Please "Like" the page and you will see updates.
R & T Happenings and News:
Friends,
Rough and Tumble is a special family that is immune to many of the influences of the outside modern world but we are not immune the threat of the COVID-19. As an organization our greatest treasure is not our Otto Engine or the Shay Locomotive but our membership. We especially cherish our senior members who help us connect the past with our present. I want to make a special request to our older members or those with medical conditions; The best thing that you can do for our organization is to protect yourself from contracting COVID!
The keypad to enter the grounds will remain active. R&T would asked that you follow the CDC guidelines while on grounds including reducing group size and proper hygiene. Lets apply that "Good Old Common Sense" that we all preach.The safety of our members should be our # 1 concern.
The R&T Board will put these precautions in place:
--Board Meeting 1 May (cancelled)
-Official Work Day 2 May (cancelled)
-Antique Tractor Pull 25 April and Spring Steam up 8-9 May Cancelled.
I want to leave you with the words of Winston Churchill in these times:
"Attitude is a little thing that makes a big difference."
Please free to contact me with questions or concerns.
Stay safe and wash your hands,
Bud Burdy R&T President
Some Exciting R&T News. Rough and Tumble will be converting the old Schatz Food Service #5 building near the entrance to a Museum for Hit and Miss Small Gas Engines. Engines will be on display and running. This will be a 2020 project with engines stored in the Engine Haus #16 moved into the remodeled building. The Board of Directors in the January meeting approved the new display area and look forward to this new addition to the Museum.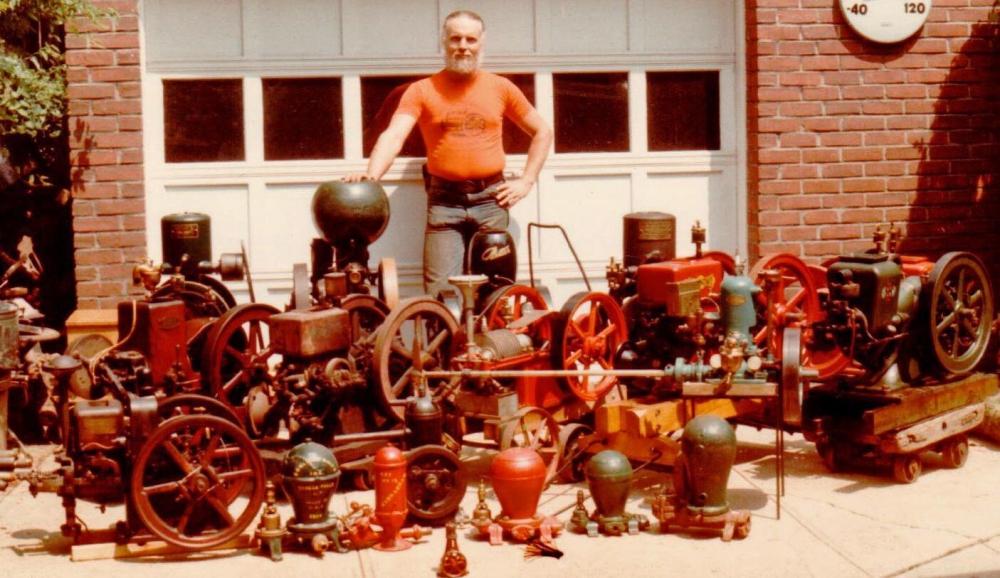 Rough and Tumble is very saddened to announce that that long time member and vendor Lee W. Pedersen passed away in March. More information is available here.
Rough and Tumble Historical Association will be celebrating their 75th Anniversary in 2023. To mark this Diamond Anniversary, the Shows Committee is beginning the monumental task of creating a "Diamond Jubilee Book". We would like to request that you share your stories, memories, pictures and anything else you would like to share, to be included in this book. Shows Committee members will be at the mid-winter get together, meeting with anyone who would like to share. Additionally, you can contact them via email to send a story or to arrange a phone call or meeting at [email protected].
Antique and Classic Tractor Pull will be held Saturday, April 25th the years first event at Rough and Tumble. Come out to the pulling track and watch antique and classic gas tractors complete pulling down the track. Gates Open 8:00 AM. Tractor weigh-in starts at 8-10 am. Tractor Pull starts at 10 am. There will be a food truck at the track. More information is available here. Admission is Free!! More info is available here.
Spring Steam-Up will be held May 8th and 9th at Rough and Tumble. We will be plowing the adjacent field with Steam Traction Engines and Antique Tractors which is always great to see these engines working hard, weather permitting. All the buildings were open with exhibits around the grounds. On display and in operation are steam and gas engines, tractors, antique cars, models, blacksmith, saw mill, and Little Toot and the Shay! More information is available here.
Time to renew your Rough and Tumble Membership.
The Merge's family and ace Stanley mechanic Kelly Williams score the first steam up of the new decade with R&T's Stanley Steamer getting it running work Day Feb 1st 2020
WPBS Video of R&T
2019 was a Very Sucessful Tractor Pulling year with many pulls of all different classes. The 2019 Tractor Pulling Results and Regulations are available here.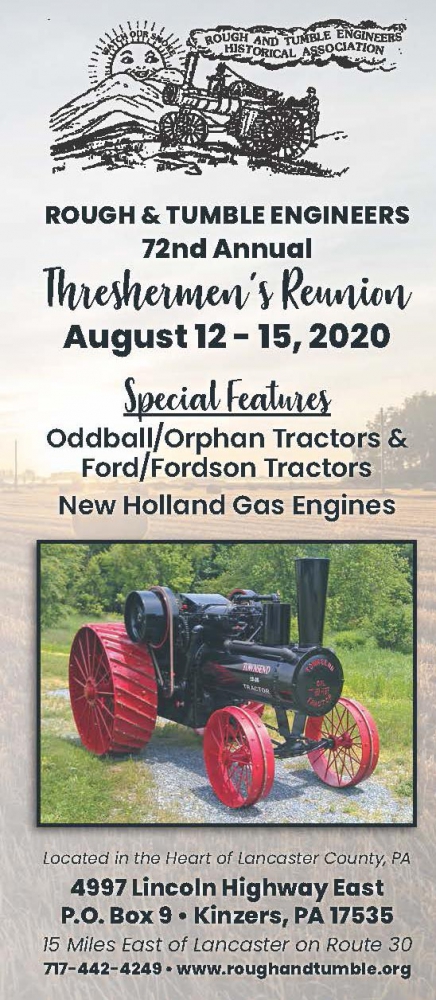 Membership in Rough and Tumble is widespread both by age and geographically. It is not unusual to see three and even four generations of a family riding around the grounds on a huge steam traction engine during events. Likewise, the parking lot is full of cars and motor homes from all over the United States and Canada during Annual Reunions. Membership in Rough and Tumble renewable at the beginning of each year and is payable at the gift shop, via mail or now by PayPal with your credit card thru our web site. We also offer Lifetime memberships. Membership brings many benefits.
The 2020 R&T Brochure is now available here. Please note if you renew your membership online via paypal before you receive your mailed membership card just prior to a show, you should bring your PayPal receipt for entrance. The 2020 Reunion Poster is available here.
The 72nd Annual Threshermen's Reunion will be held August 12th-15th featuring Oddball/Orphan Tractors, Ford/Fordson Tractors, and New Holland Gas Engines. We will also be hosting the 26th Annual Sheppard Diesel Clubs National Show.
Exhibits include Steam Traction Engines, Antique Tractors, Threshing Machines, Hit & Miss Gas Engines and Large Gas Engines. Ride Two Steam Trains that loop our grounds, Visitors watch the Saw Mill and Shingle Mill in Operation. Visit the Model Shop , Antique Car Museum, and the Large Stationary Steam Engine Museum. See the featured Rumely Display, Stationary Balers, Antique Wagons and the new Line Shaft Machine Shop. There are many activities for Children including the Children's Pedal Pull.
Blacksmiths pound Iron, the Huge Flea Market 2-3 acres will have over 100 vendors. There are the large John Deere and IHC Displays, Numerous Craft Displays. Antique Earth Moving Equipment in Action. The Daily Parade of Power and the Pageant of Threshing. Enjoy the Good Home Made Food with Plenty of Shade around the grounds. Evening activities includ Tractor Pulls, Steam Games, and Antique Tractor Pulls.
We Demonstrate the Daily Pageant of Threshing!! From Hand, to Horse Power, to Steam, to Tractors at the Threshermen's Reunion!

The Rough and Tumble Pulling Committee is pleased to announce that we are including Classic Tractors to our pulls along with the Antique Tractors. A new web page has been added for Tractor Pulling Information under R&T Information and can also be accessed here which included links to regulations.
A rare 1992 Threshermen's Reunion 40 minute video with sound showing many area's of Rough and Tumble from gas engines to the saw mill, threshing, steam engines, tractors, and steam games below.
The Gift Shop has been remodeled and there are new items online. You will see a beautiful redesigned and updated shop. Wayne Hartshorne headed up the project and his team did a fantastic job.

There is new flooring, fresh paint, new shelving, and the counters were moved to improve access. The new windows and air conditioning have been installed also.
Amazon Smile
Rough and Tumble Historical Association, Inc. is a unique 501(c)(3) non-profit museum located on 33 acres in Lancaster County in PA that helps preserve America's Agricultural and Industrial history by holding events throughout the year. Rourh and Tumble has registered with Amazon Smile to receive their charity donation from your purchase on Amazon. If you purchase anything on Amazon, go to Amazon Smile (same as Amazon) and set your charity to Rough and Tumble Historical Association. Your support will help Rough and Tumble, founded in 1948 with the unique history as one of the longest and earliest running organizations of this type in the U.S.
Our Mission: To Develop And Maintain An Educational Living Museum That Showcases Antique Farming Machinery And Other Equipment, Which Are Demonstrated Periodically At Organization Shows And Events. Go to https://smile.amazon.com sign in, and set your charity to Rough and Tumble Historical Association. Your support is very much appreciated! More information is available here.
Volunteers are working on projects around the grounds preparing for events. Jim Wiest is the Volunteer Coordinator and is working on a variety of projects around the grounds. Every weekends Saturday Volunteer Activities can be seen on the Volunteer section in Saturday Volunteer Activities here. A special thanks for all the Volunteers that help make Rough and Tumble the great and unique organization it is today! We have several projects going on this year and more information can be found on our Volunteer Info page above. Another Volunteer with projects around the grounds to connect with is Wayne Hartshorne who is working in various areas.
Rough and Tumble has received some great reviews on TripAdvisor. We thank all the many people that visit our unique Museum every year. The link to TripAdvisor with our reviews can be found here.
The Patriot News of Central PA wrote a special article on what Rough and Tumble has to offer a visit to our grounds during shows. You can read their article "Rough and Tumble's show of power is like no other ", here.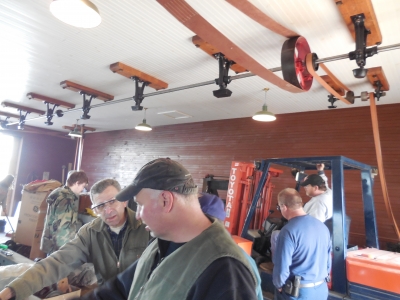 Our Circa 1900's,Line Shaft "Machine Works" continues to grow and add more equipment. We would like to thank R & T Director Bud Burdy and his team for the beautiful job they are doing after much research on how to design and build the shop. You can see project photos in the Photo Albums. They are finding more interesting circa equipment as the project progresses. Notethe ceiling mounted line shafting.
Bill Hazzard and his team have worked the Cooper Engine Project for many years from dismantling it in Ohio, to bringing it back to R & T, pouring concrete and installing the engine. Bill was able to turn over the engine with compressed air in the summer of 2012 to prove the mechanics. The next step was to complete the exhaust, fuel supply lines, and cooling system which is now complete. The engine first ran for 30 minutes on 7/20/13 as shown on the video. Look at the Cooper Engine Project and New Running Videos in our photo section. New Notes and an engine diagram were added to photos pages.
A Great Piece of Cooper History from Roger Kriebel has been added regarding the Cooper Engine. You can see that information here.