New Rough and Tumble Web Site
Welcome to the new updated Rough and Tumble Web Site! The new R & T Web Site went live on March 13, 2013 after a six month project from project start to web kick-off. In January 2017, the website was updated to be a mobile-friendly site that self-adjusts in screen size from cell phones to tablets to large computer screens.
Back in the September 2012 Board meeting, the R & T Board was asking for a Volunteer to create and update to a new web site for the organization. I raised my hand and told the Board I would take on the challenge. The organization gave me a budget to create the site that the organization needed. It had to be able to be easily updated and contain all the information that the organization needed. After thinking about what I wanted and taking feedback from other Members, I had a good idea of what I would like to see after Volunteering for 12 years at R & T, learning the organization, and working with the Steam School program.
I wanted an easy interface for Visitors and Members to navigate the site with resources that were easy to find. I wanted to have a good photo album and be able to incorporate videos of R & T events. Most important was the ability to make quick updates and grow the site without being an HTML programmer. Another feature I wanted to include was to be able to purchase items from the Gift Shop on line. An extension of that was to bring the ability to renew Memberships online with a credit card quickly and easily.
The first step was to find a company that had a good web interface, the support, and design. After 2 weeks of research and speaking to friends in the business for guidance, I was fortunate to find a local company in Downingtown, PA that works with non-profit organizations like Rough and Tumble and has an easy to use interface. I found that many web companies were either too small with one part time designer or too large and expensive to design a site we needed. SKWD Associates visited Rough and Tumble at our Time of Harvest show in October to get an idea what we were all about and what we needed. They have an EZ-CMS program they designed that allows us to easily and quickly work with the web site you are viewing. This was the most important step of the project. If you can work with a word processor, it is easy and simple to maintain our new site.
After more conversations, we decided it would make sense to incorporate Membership into the site. So in December we took a step back and worked to understand how we could incorporate that also. We designed a database into the site so Members could join or renew their Membership thru PayPal directly from our web site. Members can also update their profile and get Member only information from the site like the Whistle, ByLaws, Board Meeting Minutes, and Contact Information. Members can also enter their Volunteer interests and abilities into their profiles.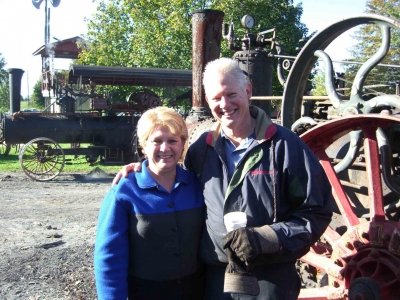 We have received many positive comments from Members and Visitors after introducing the new R & T site. It will continue to grow and be regularly updated. Your input is also important. If you have suggestions for our new site, please email me, John Johnson at [email protected]. We welcome your input to help our 68 year old unique organization's web site grow and support our Volunteer Members and Visitors.
I have added some video's of some of our Rough and Tumble steam engine activities below. Many members know me through our Steam School program which I administer.
More of John's videos posted on YouTube here.
You can also see some photos of my family's farm background here.