2021 "A Time of Harvest" Schedule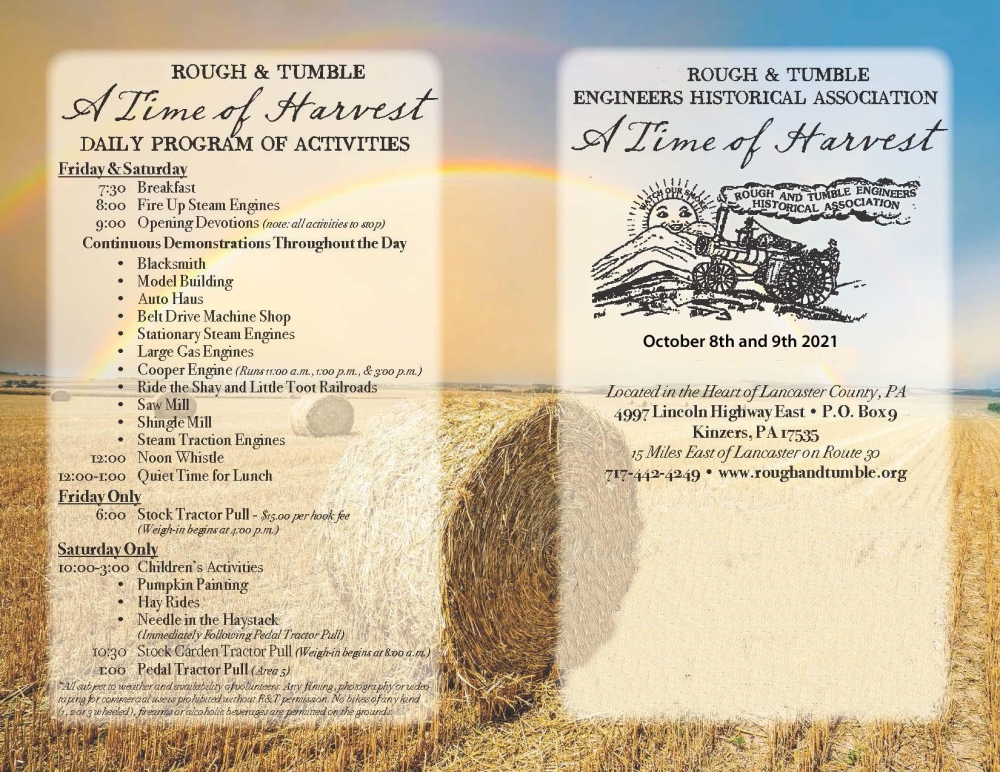 Friday and Saturday
October 8-9, 2021
A wonderful time of year to enjoy our fall show!
Come join in on our final show of the year celebrating "A Time of Harvest". Special activities will be held for children on Saturday including the Pedal Tractor Pull, Harvest Rides, Candy Corn Ring Toss, Pumpkin Bowling & other games and events for children including Pumpkin Face Painting and a Barrel Train Ride. Rough and Tumble equipment will be in operation from steam trains, gas engines, and the model shops to gas engines, steam traction engines, and more. Enjoy Corn Husking and machinery demonstrations. The program can be seen here .
R & T Members Free, Children under 6 years Free, $2.00 per person age 6 to 12, $5.00 per person over 12 years old.
The Blood Mobile for Rough and Tumble's Joy Frantz Memorial Annual Blood Drive, Central PA Blood Bank (By the Gift Shop) will be onsite Sat 8:30 - 1 PM.
The following schedule and activities are subject to weather and availability of volunteers.

Steam School Registration begins Friday at 8:00 am at the sawmill.
Time
Activity

7:00 AM
Gates Open
Friday 8:00 AM
Steam School Sign-Up
7:30-10 AM
Breakfast served
8:00 AM
Fire Up Steam Engines
9:00 AM
Opening Devotions (note all activities to stop)
9:30 AM
Tractors on Display
10:15 AM
Continuous Blacksmith Demonstrations, Large Gas Engines and Stationary Steam buildings
10:30 AM
Sawmill starts operating
Large and small gas engine demonstrations
Steam Museum in operation
10:30 AM
Stock Garden Tractor Pull (Sat. only)
10:00 AM - 3:00 PM
Pumpkin face painting (Sat. only)
Barrel Train Ride (Sat. only)
Needle in the Haystack (Sat. only)
Pumpkin Bowling & other games for children (Sat. only)
12:00 PM
Whistle Blow
12-1 PM
Lunch hour
1:00 - 3:00 PM
The following demonstrations take place -
Hand husking corn (anyone can participate)
Husker Shredder
Husker Sheller
Arthur Young Shredder
Ensilage Cutter
Shellers of different types powered by hand, gasoline and steam engine
Feed grinding powered by tractors and by hand
1:00 PM
Pedal Tractor Pull (Sat. only)
4-6 PM Fri
Tractor Weigh In (Fri. only)
6 PM Fri
Tractor Pull (Fri only)