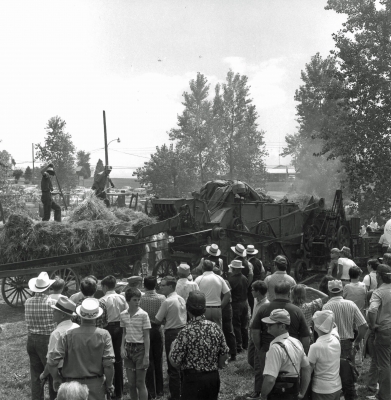 The History of Rough and Tumble Engineers Historical Association, Inc.
1948 - 1988 as told by Marie Bongiavonni
Amid the fertile, rolling farmlands of historic Lancaster County lies an unobtrusive world of power. A place where people, progress, and preservation maintain a delicate balance. Where caring, commitment, and creativity count.
It´s the world of Rough and Tumble Engineers´ Historical Association. And as they celebrate their 40th anniversary, it´s a celebration of men and their marvelous machines. In recognition of innovation, dedication, and perseverance.
Rough and Tumble´s massive, sturdy engines attest to countless contributions and loving labor. They stand in tribute to the association´s history and our nation´s technology. And they reflect a collection - not only of material objects - but of members, volunteers, and folklore. An outstanding collection that documents the history of power.
But Rough and Tumble wasn´t created as a collection. It began as an event - a threshermen´s reunion that, for all intents and purposes, never totally ended. Yet while the camaraderie continues, the organization evolves.
The first Rough and Tumble social gathering was held in 1948 on the grounds of Arthur S. Young´s farm equipment dealership south of Route 30 at the east end of Kinzers, Pennsylvania. Steam engine enthusiasts had encouraged Young to have a show to display his collection of engines. As an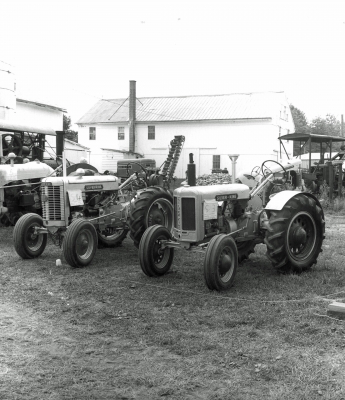 officer of the Pennsylvania Threshermen and Farmers Protective Association, Young persuaded that group to provide free food and advertising for the event.
"Prior to that time, most threshermen had owned and relied on steam engines to conduct their business," said Titus Brubaker, who worked as a custom threshermen for almost half a century and served on Rough and Tumble´s original board of directors.
Early in the 20th century, when threshermen travelled from farm to farm, steel-cleated iron drive wheels on steam traction engines often damaged newly paved highways throughout Pennsylvania. This prompted attempts to keep steel-cleated rigs off the roads, and confrontations between threshermen and the commonwealth were common.
"To keep the engines on the road, the Pennsylvania Threshermen and Farmers Protective Association was formed," Brubaker said. Membership included farm equipment dealers, farmers, and threshermen organized to present agrarian interests to the state legislature.
Lebanon and Lancaster counties were the most active chapters in the statewide organization. Eventually, their efforts were successful, and a special cleat was designed that allowed the engines to stay on the roads, Brubaker said.
However, by mid-century, tractors were taking over. They were handier and took less time to get into operation. So when steam engines were at the end of their season, the protective association felt that its work was done.
They hosted one large picnic for hundreds of folks, some of whom "drove engines 20 miles over the road to get to that show." Steam engines were fired up, and machinery hummed. "Many in the crowd had a fascination for steam," said Roy Herr, who designed innovative agricultural equipment and helped with Rough and Tumble´s early activities, serving as its original secretary/ treasurer.
"There´s something about the operation of a steam engine that gets in a person´s blood. There´s something about the feel and sound of that.... It´s a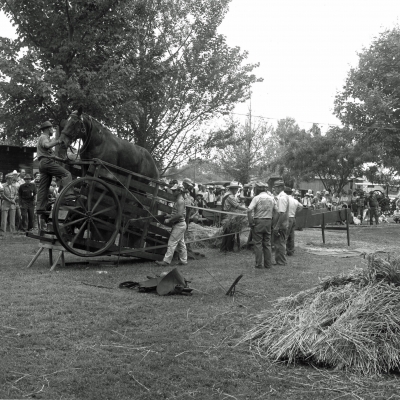 smooth kind of power. Steam. It´s ready. When you crack the throttle things start happening.
"But some folks at the reunion just had a smattering of experience with steam," Herr added. "Still, everyone enjoyed themselves." In fact, the picnic was so successful that enthusiastic participants decided to establish a threshermen´s reunion as an annual event, and under the direction of Arthur S. Young and other leaders, formalized organization and planning.
Arthur S. Young, who had been active in the agricultural protective association, was a primary force in Rough and Tumble´s creation. Born in 1888 the son of a custom thresherman, Young seemed naturally interested in steam engines and mechanical problems. "From the time he was in school, he had a love for steam," said C. Everett Young, Arthur´s son and a currently active Rough and Tumbler. "Just recently, we discovered some of Dad´s early drawings of steam engines.... So even as a kid, he had that in his blood."
The senior Young´s passion for steam continued, and in 1907, while employed in a machine shop that manufactured farming equipment, Art Young purchased a steam traction engine. With his own crew, he started a custom threshing rig, touring area farms during harvest season.
As did other local repair and machine shop operators, Young ran the threshing rig in the summer and worked in the shop the rest of the year. In 1916, he opened his own farm machinery business. Prospering, he sold, repaired, and operated steam-powered traction engines and built a number of steam-driven railroad locomotives.
"At that time, everything was powered by steam," said C. Everett Young. "Dad also sold and repaired threshers, fodder shredders, sawmill equipment, and silo fillers. During offseasons, when not used for threshing, steam engines were used to steam soil, operate sawmills, stone crushers, and road graders. In other words, he had 'power for sale.'
"As steam engines were replaced by gas tractors, Dad did a lot of trading. Eventually, he ended up with real old units - steam engines, threshers, and balers - that weren´t salable anymore. This made up the yard. The scrap yard. To my Father, there was no such thing as scrap. There was only salvage.... He could take nothing and make something out of it," Young said with gentle pride.
During World War II., when scrap drives and donations for the war effort were popular, some folks labelled Art Young "unpatriotic" and reported his rusting collection to the government. When federal officials visited Young to encourage him to contribute his relics for war production, "rather than getting mad, he took them for a walk."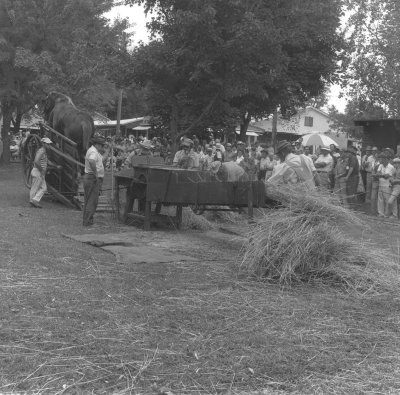 While touring his property, Art Young described how parts of old engines were recycled for defense production. He also showed how machines that were classified as scrap were used to supply parts to keep wartime engines running. "During the war, you couldn´t buy new parts, and had to make do with what you had." C. Everett Young said.
Instead of pressuring Young, authorities awarded an honorary citation for his efforts in conservation and recycling old machinery to help the war effort. Many folks believe that by preserving machines which contributed to our American heritage, Arthur S. Young may have done far more for future generations than several tons of scrap metal might have contributed during WWII.
During his lifetime, Young was also an active civic and religious leader as well as the first president of Rough and Tumble, a position he held from his election at the steam threshermen´s second annual reunion in 1950 until his death in 1955.
At the November 1950 board of directors´ meeting, Art Young´s first item of business was selection of a name for the group. He recommended "Rough and Tumble Engineers´ Historical Association," inspired by the original edition of Maggard´s following text.
"Mr. Young admitted that the name came from this book," said Brubaker. "It´s a practical book. It helped me many times and gave me good advice about keeping engines in trim ... in good repair." Supposedly, Rough and Tumble engineers earned their title by operating sawmills, threshers, road rollers, and other machinery in rough, raw backwoods and fields, making their own repairs, and occasionally dropping through a rotted wooden bridge.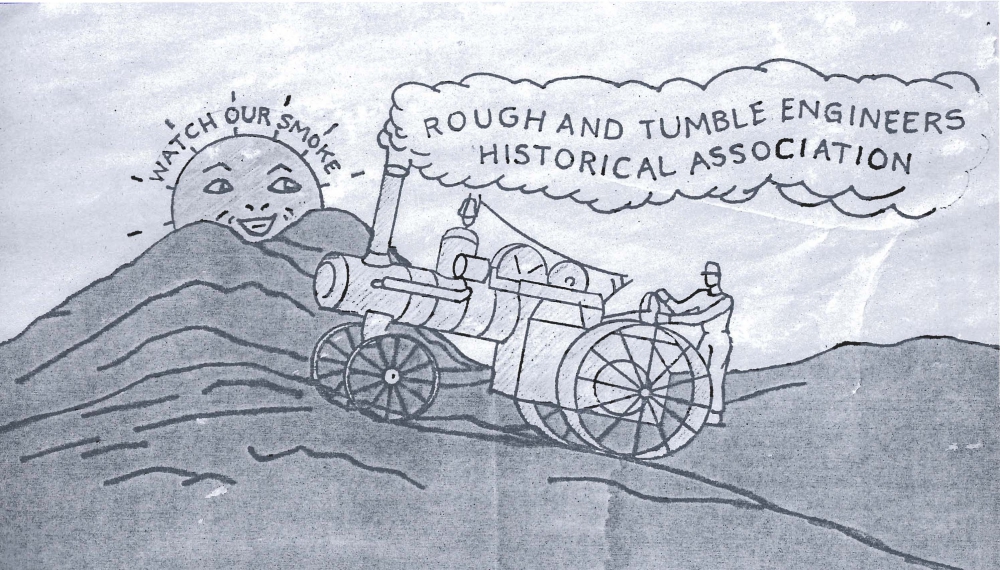 After the name was unanimously approved at the board meeting, members adopted an association logo based upon an advertisement for Maggard´s book that appeared in an early issue of Thresher World magazine.
In 1951, Rough and Tumble began to develop a national reputation through promotion in a serial production entitled The Iron Men Album. The publisher, Elmer Ritzman, was interested in the preservation of old equipment and had encouraged Art Young to host the first threshermen´s reunion. "In the early 1950s, Ritzman was working up a healthy magazine circulation, and attracted Rough and Tumble members from as far away as California and Ontario, Canada," said Herr.
Membership grew steadily as word spread about an organization to collect, preserve, restore, interpret, and exhibit tools and artifacts that commemorated agricultural and rural society. Since then, a primary objective has been to perpetuate early farming machines, methods, and lifestyles through an annual reunion.
"When we first started, the reunion was peppered with Amish," said A. D. Mast, a self-proclaimed "dyed-in-the-wool" Rough and Tumbler. "The first year or two it was free, and women of the fire company and local churches would come and help prepare food." Though women´s roles within the organization have expanded considerably since that time, members´ wives in ladies auxiliary and men and women involved with Kinzer Fire Company still serve regional specialties at special events.
Rich, deep aromas of freshly brewed coffee, homebaked pies, and sizzling sausage tempt visitors during Spring SteamUps, Annual Reunions, and Fall Show festivities. These activities complement each other throughout the year, with reunions typically held when grain is available for the historical pageant of threshing which captures the attention of men, women, and children of all ages.
"We started out as a 100 percent steam show, but as gas engines became antiques, we broadened our collection and developed a well-rounded program," said C. Everett Young. And as attendance increased, reunions evolved from informal gatherings into scheduled, structured activities.
Since its inception, an enduring aspect of Rough and Tumble has been the degree of dedication - members´ commitment in terms of time, sweat, and equity.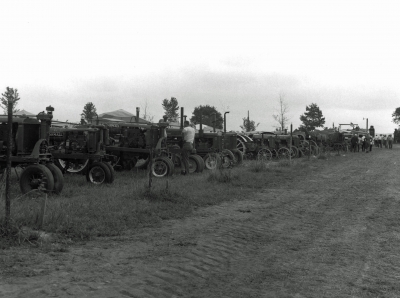 In the mid-50s, contributors´ generosity established a fund that allowed the organization to purchase its own land on the north side of Route 30 - across from Art Young´s property. Nine acres were initially purchased, and along with later acquisitions, Rough and Tumble now owns 33 acres and 15 buildings.R&T moved across the street in 1958 and purchased the rest of the Myer farm in 1972.
In 1957, three members accepted the tremendous task of moving an Allis-Chalmers Corliss Stationary Engine from a knitting mill in Lititz, PA. Through a combination of hard work and diverse mechanical, technical, and artistic talents, they dismantled, rebuilt, and repainted the complex engine. Within four months, the restored engine was installed at its present location in the museum building. Since installation in 1958, this engine has been running every year at the annual reunion.
In 1961, in the same cooperative spirit of fun and hard work, another group of Rough and Tumblers dismantled a massive steam-powered ammonia compressor with 80-ton refrigeration capacity donated by Kunzler´s Meat Packing Company.
"We had to get it out of Kunzler´s place of business, and that was a dirty, greasy job that took about a week," Titus Brubaker described. "We had to take it all apart to get it out. We had the flywheel in two pieces and had to take it out one piece at a time. The same way with the head and crankshaft. We didn´t have room enough to get the whole thing out in one piece.
"Some just worked for a couple hours, and others worked for days. We were all greased-up one evening, and we didn´t go home for supper at the usual time. We wanted to finish that night and we stayed.... Then, when it was time to go home, one fellow said ´you´d better insure your life cause I was home and got an awful lambasting about the grease that I brought in," he laughed heartily.
"Well, we had a good time about it anyhow. Yes, we had fun. You bet. We have to have a little fun in life anyhow."
Throughout the years, Rough and Tumble has hosted diverse events in response to popular demand. For example, in the 1970s, tractor pulls were well attended and raised money for the organization´s building fund. In addition, Rough and Tumble has sponsored an increasingly integrated annual reunion where everyone can show their pride and joy, whether it´s steam, gas engines, gas tractors, models, hobbies, crafts, or antique farm machinery.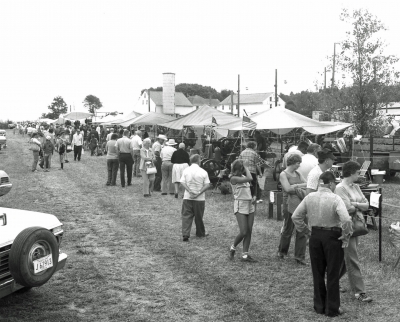 Every reunion features demonstrations of stone crushing, sawmill operations, and grinding flour, along with music of all sorts - from fiddlin´ and pickin´, to uplifting hymns, to the distinctive melodies of a handcrafted steam calliope. And each year, a special display highlights a specific line of tractors, farm machinery, and related memorabilia. For example, exhibits have included International Harvester, John Deere, J. I. Case, Allis Chalmers, Oliver, Minneapolis-Moline, and the International J. I. Case Expo.
Based upon studies of the interaction between play and work, "the steam and gas hobby has different aspects - collecting, restoring, and modeling. And the show is where all those things fit together," said Malachi O´Connor, who has extensively researched the association while working on a doctoral degree in folklore and folklife from the University of Pennsylvania.
"At Rough and Tumble, they seem to have taken a Lancaster County work ethic, right out of the Pennsylvania German tradition, and transferred this to a secular way of looking at things that emphasizes realizing and fulfilling yourself through your work."
Whether it´s putting on the shows or restoring engines, it´s totally volunteer. They´re not paid. Nobody´s paid. This is love. It´s not just love, but it´s doing what you know best. All the time.
And it´s social. On the first Saturday of the month from March through November, workdays are well-attended at the museum. Participants enjoy fun, fellowship, and nowadays, in return for a day´s labor, a traditional Lancaster County noon meal prepared by the ladies auxiliary. "When we organized the auxiliary in 1978, we decided it would be a way to maybe get more fellows out to work and to keep the group closer knit," said Hazel Stauffer, first president of the auxiliary.
Whether working or relaxing, Rough and Tumblers are fascinated by power. Although there are many hand- and horse-powered tools, the real issue at Rough and Tumble is power. Steam power, gas power, traction engines for agricultural . . ., stationary engines for industrial and around the farm, single cylinder gas engines....
"I think that what´s going on at Rough and Tumble is very important for various reasons, including the way that they approach the past," O´Connor said. "There are loads of places that try to reconstruct the past, but they give you a very static reconstruction.
"In much of our society, leisure time is spent by many in consuming the past. They buy pieces of it. Or they eat it. Or they visit someplace. But they never actually see it, touch it, or feel it. They never actually become involved in the past. As a result, many are never really satisfied. . . ."
But at Rough and Tumble, both volunteers and tourists become actively involved with the past. At Rough and Tumble, folks are involved physically as well as mentally with historical objects. As a result, they get a chance to enter the mind and mindset of the maker, though O´Connor emphasized that the current experience is reinterpreted by the participant.
And the thing that tourists enjoy at Rough and Tumble that they don´t get elsewhere is that not only do the workers work, but the machines actually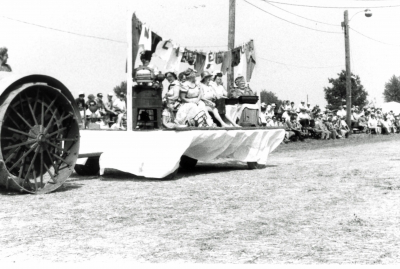 work. Visitors can actually smell the steam, get dirty from the soot, and get a little bit of a flavor of what it was actually like.
They can hear an engine bark. And they can listen. It´s a multisensory experience. A real kinesic. It´s not the same as going to another museum where engines run on fairly sweetsmelling stuff or run on air instead of steam. At Rough and Tumble, you can see the action.
"Right now - in 1988 - we´re starting at a great divide," said Dwight L. Groff, Rough and Tumble´s president. "Folks who are 50 plus years and older are able to reminisce about machinery displayed.... But we have an altogether new crop of people coming on."
Reminiscence and memories will no longer serve members and guests, so the museum must increasingly be used as a teaching tool. Textbooks are fine, but 'hands-on' is far better with Rough and Tumble.
"Programming will have to be tailored around how much land we secure," Groff continued. "In looking towards the future, there´s been discussion of getting more land in a neighboring area. We´re a growing organization as far as artifacts and programs are concerned, and land will be a hinge as to how much bigger one can become. At present, we are almost able to grow more than we´re able to expand."
The 1980s have generated considerable growth for Rough and Tumble, both in terms of show attendance and exhibitions. The past decade seems to have prompted greater commitment among membership, greater awareness among the public, and an increase in acquisitions. "People seem to be realizing that Rough and Tumble is really a stable place," he said, "more a growing and valuable museum than just a show."