The Most Complete Steam & Gas Show in the East!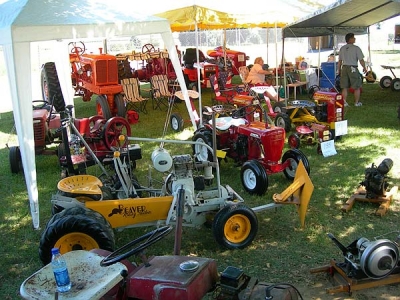 An Exhibitor Hospitality tent will be set up for R & T Exhibitors. Brenda Riehl and her Committee will be greeting Exhibitors, serving coffee and donuts, and helping the many dedicated people that attend and exhibit at our show each year.
Exhibitor
The Equipment Display Areas are to be used for display only. Items for sale may not be offered for sale in the equipment display areas. Exhibit Guidelines for displaying in the Small Gas Engine Display Area are available here. If you have a piece of equipment to sell, it must be offered in indoor spaces available in the Rumely Building and outside spaces on the south side of the Tractor Building. (See Vendor Information)
Antique Tractor Pull
Tractor Pull Information
If you are interested in participating in the Antique Tractor Pull at Reunion, please carefully read our Tractor Pull Regulations. Note there is no pre-registration this year and a 5,000 pound class has been added.
Garden Tractor Pullers - In the interest of uniformity, any participants interested in pulling in the Garden Tractor pull that is held on the Saturday of Reunion, held in August, will be required to set up and display all four days of the show. This four day requirement is already enforced for the large tractor pullers. With the very popular feature scheduled, we will not be able to allocate the parking field for the Saturday morning parking of trucks and trailers that usually come with the Saturday only pullers. Thank you for understanding that this is a necessary change to accommodate the need for more display and flea market space.