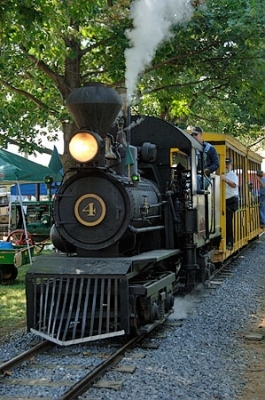 ROUGH AND TUMBLE ENGINEERS HISTORICAL ASSOCIATION is a unique 33 acre museum in that we don't clean the dust off our artifacts - because we're often out kicking up the dust WITH them. During our show days almost everything on the grounds is run! And during our annual Threshermen's Reunion EVERYTHING on the grounds that will move under it's own power can be seen in our daily Parade of Power, a ninety minute parade of antique and obsolete machinery both steam and gas.
The Rough and Tumble is a 501(c)(3) non-profit organization made up entirely of non-paid Volunteer members who have an interest in maintaining and showing antique agricultural and industrial machinery of many types.
When Rough and Tumble is not having a show, you can still find its members on the grounds - working and fixing something up so that it can be used. We're always busy - but never too busy to take the time to talk. Some of our members remember when the piece of machinery they are restoring was used daily - a wonderful improvement over doing the same job by hand. Some of our members are younger and love Rough and Tumble as a place to come and get involved in reliving the history of the Good Old Days and making new friends. We have a very active younger volunteer base at R & T.
What Can You See at Rough and Tumble
We feature many types of fascinating historical equipment, most of it having to do with the "yester-years" of farming and industry, but also including steam railroading and antique autos and trucks. Specifically, at Rough and Tumble you can see - Mammoth Steam Traction Engines that used to roam the prairies and power threshing and other farm machinery. There are also a wide range of Steam and Gas engines used in many industrial services of the past.
Kerosene and gasoline powered farm tractors going back to the early days of 1900. The variety of these machines is unbelievable, and many are one of only a few remaining of their species.
Stationary Engines and Gas Engines powered by steam, propane, and gasoline, including some truly huge pieces retired from factories and ships but functioning in our museum.
"Hit and miss" and other smaller stationary engines that were the utility engines of their day, whether in factories or on the farm.
An operating, full size Saw Mill powered by the "engine du jour".
Threshing Machines, sometimes linked to old Bailing Machines that do live threshing of local grains during some show days and draw especially large crowds at the annual Threshermen's Reunion.
Miscellaneous other equipment. For example, you'll see shingles being made the old fashion way with power from a hit and miss or other "early American" power source.
Our Shay Railroad is a big hit and provides rides around our large museum grounds.
For the little folks, we have the "Little Toot RR" which is a miniature parkside steam engine pulling open top cars full of children & adults.
Model Engineering is a growing activity whereby people interested in steam and internal combustion engines can really get into the subject building miniature engines that operate just like the big ones, but for far less expense and space consumed.
Antique Autos and Trucks with a complete PA Tag collection?complement the early 1900 farm machinery seen throughout the grounds.
The construction and antique earth moving is a recent addition to the back grounds. Watch classic steam shovels and dozers move??earth.
Our new "Machine Works" circa 1900's machine shop utilizes line shaft driven machining tools crafting items.
To learn about all of the fascinating equipment and activities of Rough and Tumble, you should explore the depths of this web site. The photos sprinkled about the site and the Photo Albums of recent Threshermen's Reunions provide a glimpse of the wide variety of equipment making up our museum and events.