John Deere Days
2022 Waterloo Boys
The Annual John Deere Show is
Friday July 22 and Saturday July 23, 2022.
2022 Raffle Tractor.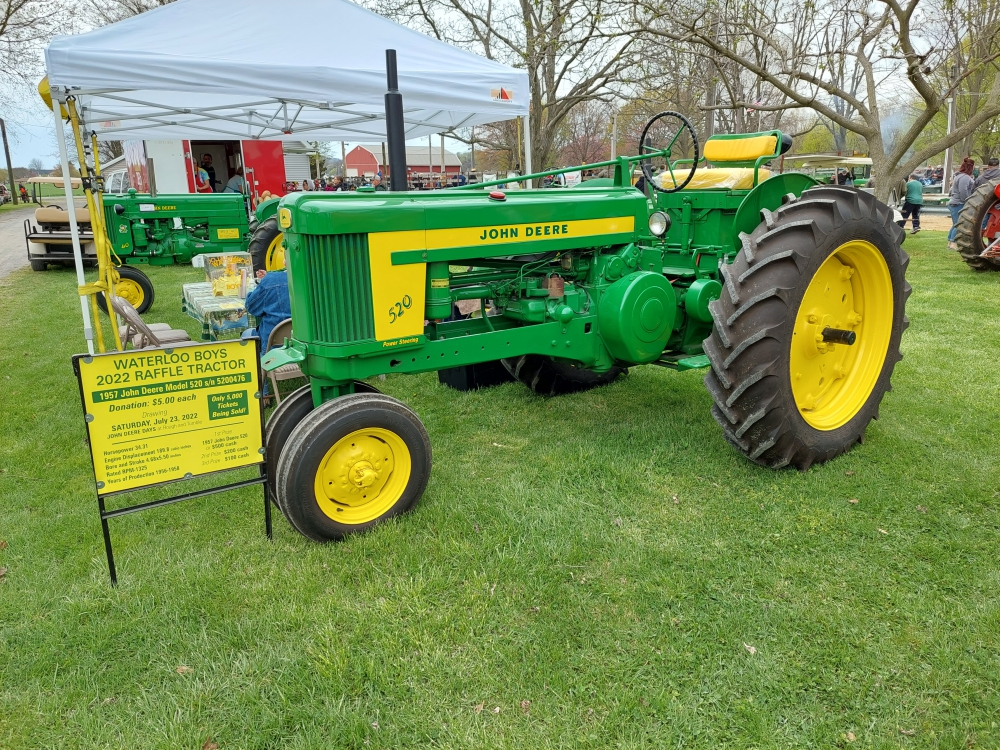 2021 Raffle Tractor winners
First place – 1953 "40" tractor – Kevin Dufour – Pykesville, MD – purchased at Fawn Grove Show
Second place - $200 – Jason Green – Thurmont, MD
Third Place - $100 – Steven Salada – Manheim, PA
Theme:
This annual show is sponsored by the Waterloo Boys Club of Southeastern Pennsylvania. This year's raffle tractor is the John Deere, which will be raffled off on Saturday, July 24th - don't forget to get your tickets! More info is available here.
Events include: antique tractor pulls, garden tractor pulls, kid's pedal tractor pull, and tractor games! Also make sure to check out all the wonderful workshops, vendors, children's games, food & souvenirs, artifacts display, and much much more! Don't forget to watch the fan favorite "John Deere Parade of Power" both days with many different and unique
of John Deere models.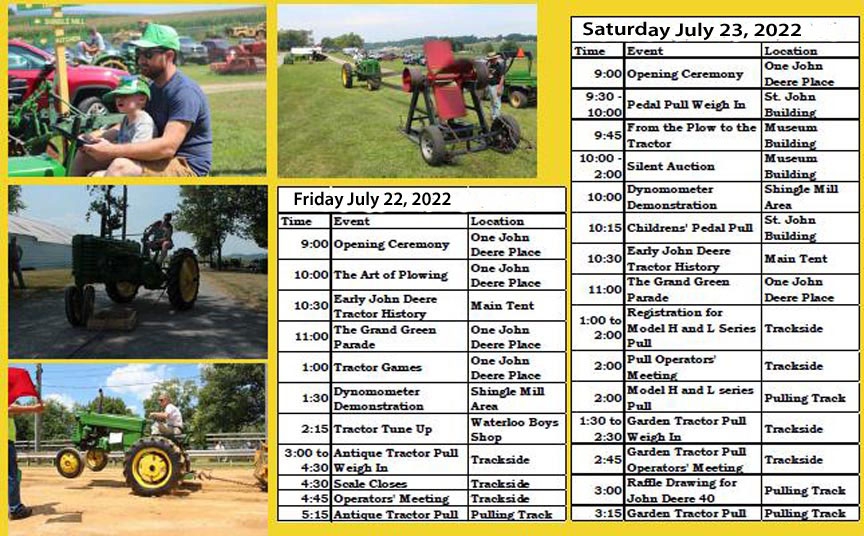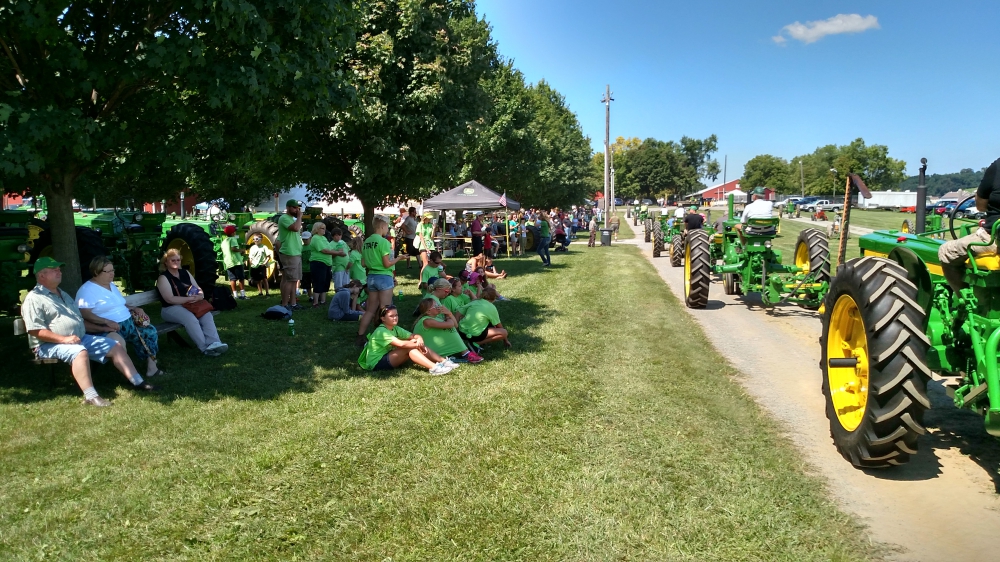 This annual show is sponsored by the Waterloo Boys Club of Southeastern PA. The Show Program is available here.
Facebook link to Waterloo Boys of SE PA is here.
The new Waterloo Boys website is available here.
Thanks to everyone who supported our 2020 raffle! Even in these extraordinary times, we were able to successfully complete our raffle sales. Stand by for information for the potential 2021 raffle. Since many of our outings for the remainder of 2020 have been cancelled, we have not yet initiated our raffle for 2021. In the meantime, congratulations to the winners of the 2020 raffle:
Winner of the 1959 John Deere 530
Paul Oldinger; Seven Valleys, PA
2nd Place
Kenny Bauer; Pipersville, PA
3rd Place
Rose Marie Dooling; Drexel Hill, PA
4th Place Tony Blough Elizabethtown, PA
5th Place
Matthew Lada
Watsontown, PA
2019 Raffel Winners!
1st prize; 1950 John Deere Model G Tractor -- Donna Walter; Upperco, MD
2nd prize; $200 -- Robert Gregory; Java, VA
3rd prize; $100 -- Jim Weaver; Lancaster, PA
4th prize; $50 -- Darryl Zimmerman; Lititz, PA
5th prize; $25 -- Brian Hicks; Unionville, PA
John Deere 2018 Raffel Winners!
520 John Deere Tractor – Greg Buchala
$200 cash – Jimmy Yerian
$100 cash – David Dehart
$50 cash – Tom Jackson
$25 cash – Greg Curtis
The show is held this year in the Flea Market area around the John Deere Building.
The Blood Mobile for Rough and Tumble's Joy Frantz Memorial Annual Blood Drive, Central PA Blood Bank (by the North Main back gate) will be onsite Sat 8:30 - 1 PM.
Admission:
Members and children under 12 are admitted free.
$5.00 (Non-member Adults)
$3.00 (Non-member 12-18 years old)
See pictures from all of the John Deere Days in our Photo Gallery
2019 Annual John Deere Show at Rough & Tumble Historical Association Grounds
Show Schedule
Friday, July 26th:
9AM: Opening Ceremony
9:45AM: From Plow to Tractor Lecture
10AM: The Art of Plowing
10:30AM: History of the Waterloo Boy Tractor
11AM: The Grand Green Parade
1PM: John Deere Tractor Games (Sponsored by Strasburg Railroad)
1:30PM: Dynometer Demonstration
2:15PM: Tractor Tune Up Demonstration
3-4:30PM: Antique Tractor Pull Weigh-in
4:30PM: Scale Closes
4:45PM: Operators' Meeting
5:15PM: Antique Tractor Pull (Sponsored by Atlantic Tractor)
Saturday, July 27th:
9AM: Opening Ceremony
9:30-10AM: Pedal Tractor Pull Weigh-in
9:45AM: From Plow to Tractor Lecture
?10AM: Silent Auction Begins (Ends at 2PM)
10AM: Children's Candy Drop
10AM: Dynomometer Demonstration
10-11AM: Weigh-in Begins for Model H & L Pull Series
10:15AM: Children's Pedal Tractor Pull (Sponsored by Honey Brook Outdoor Power)
10:30AM: History of the Waterloo Boy Tractor
11AM: The Grand Green Parade
1:30PM: Backyard Chickens Demonstration
1:30-2:30PM: Garden Tractor Pull Weigh-in
1:45PM: Tractor Pull Operators Meeting
2PM: Model H & L Series Tractor Pull (Sponsored by ERM Trucking)
2PM: Silent Auction Ends
2:45PM: Garden Tractor Pull Operators Meeting
3PM: Raffle Tractor Drawing
3:15PM: Garden Tractor Pull (Sponsored by Little's)
ALL DAY: Blacksmith Demonstration
ALL DAY: Quilt Display
ALL DAY: Train Rides on Little Toot